Destin Road Safety Overview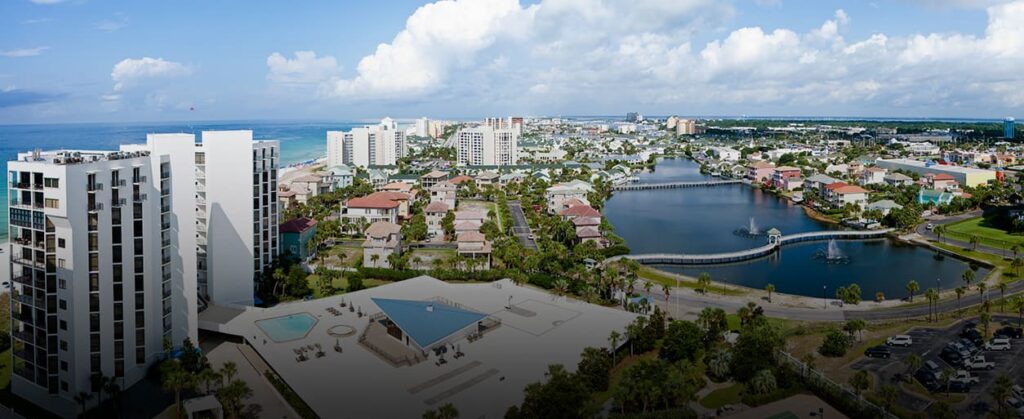 Destin, Florida, is a small town of 14,000 residents who live on the Gulf Coast of the Florida panhandle. But the Emerald Coast gets 4.5 million tourists every year, with about 80% of them visiting Destin.
As a result, most of Destin's traffic and road safety issues arise from the crush of tourists. Pedestrians, bicyclists, and motorists, all unfamiliar with the local roads, come together in the downtown areas and beaches of Destin. This combination causes congestion and traffic accidents.
This article presents an overview of road safety in Destin, FL, and its plans for reducing congestion and accidents.
Characteristics of Destin Traffic Accidents
Most of car accidents in Destin, FL happen at intersections. And over one-third of the 2021 accidents that killed or injured people in Destin happened at an intersection.
Away from intersections, the most common cause of traffic accidents in Destin was a failure to keep in the lane. These types of accidents can arise from many causes, including:
Driving too fast

for conditions

Poor directional control, such as oversteering, understeering, or overcorrection

Improper lane changes

Intoxicated driving

Aggressive driving
In 2021, the most dangerous days of the week for traffic accidents were Fridays and Sundays. Over half of all accidents happened between Friday afternoon and Sunday night.
The most dangerous months of the year in Destin were March, September, and November. The high number of accidents in March may be due to the rush of spring break tourists.
Impaired drivers caused 90 crashes in Destin last year. The most likely driver to cause a drunk or drugged driving crash was between the ages of 20 and 34. Almost all impaired driving injuries and deaths happened between 11 p.m. Saturday and 2 a.m. Sunday.
Destin Traffic Safety Statistics
In 2021, law enforcement agencies in Destin investigated 1,380 traffic accidents. Of these, around 100 involved motorcycles, 80 involved pedestrians, and 75 involved bicycles.
Destin Traffic Deaths
Traffic accidents in Okaloosa County killed 41 people in 2021, counting four deaths in Destin, FL. One of those who died was a motorcyclist. The other three were motorists. No pedestrians or bicyclists were killed in 2021.
A town of 14,000 residents with four traffic deaths would have one of the worst fatal accident rates in the country. Destin's rate of 28.6 fatal accidents per 100,000 residents is almost double Florida's rate of 14.8 fatal accidents per 100,000 residents. Destin's rate is nearly triple the U.S. rate of 11.0 fatal accidents per 100,000 residents.
But this number fails to account for the 3.5 million tourists who visit Destin every year. This large number of visitors inflates Destin's accident statistics and makes the town's roads seem dangerous.
Destin Traffic Injuries
In 2021, 27 people suffered serious injuries in Destin traffic accidents. This number includes five motorcyclists and five pedestrians and bicyclists.
According to the Florida Department of Highway Safety and Motor Vehicles, a serious injury causes disablement severe enough to require transport to a medical facility. These injuries can include non-fatal, non-permanent injuries like broken bones.
In addition, traffic accidents in Okaloosa County caused about 900 minor injuries. These included visible injuries or complaints of pain that did not require an ambulance.
Most Dangerous Roads and Intersections in Destin
Most of the traffic accidents in Destin happen along US-98 and its major intersections. Some of the most dangerous roads and intersections include:
US-98 on Okaloosa Island
One hot spot for accidents is on Okaloosa Island near the Destin Bridge. Traffic can get busy here with Destin's welcome sign and Eglin Beach Park nearby. In 2021, several injury accidents happened along this short stretch of highway.
US-98 and Stahlman Avenue
This major intersection takes motorists to Harborwalk Village to the south and downtown Destin to the northeast. It also carries visitors on US-98 to the beaches on the rest of the Emerald Coast.
Destin officials have sought ways to improve traffic flow and reduce accidents at this intersection since at least 2015. In addition to the traffic congestion, it has an unusual configuration, with Zerbe Street crossing Stahlman Avenue near the intersection.
During a traffic research study conducted from 2015 to 2018, engineers found dozens of car accidents happened at the intersection of Stahlman Avenue and US-98. They identified about 14 more at the intersection of Stahlman Avenue and Zerbe Street. 
The more than 50 accidents at this intersection over just four years make it the most dangerous intersection in Destin.
US-98 and Benning Drive
As busy as Stahlman Avenue is, Benning Drive might be even busier. Benning Drive connects residences north of downtown Destin to US-98. It also runs from the Destin Army Recreation Area to US-98.
The intersection of US-98 and Benning Drive does not have as many traffic accidents as the Stahlman Avenue intersection. But it comes a close second with several injury accidents every year.
US-98 and Beach Drive
Beach Drive provides a major route from US-98 to Joe's Bayou and the neighborhoods north of US-98. Beach Drive does not get the same level of traffic congestion as Benning Drive or Stahlman Avenue. As a result, this intersection comes in third for the most traffic accidents in Destin.
Future Projects for Addressing Road Safety in Destin
The Destin City Council has undertaken several projects to address traffic congestion and safety in the city. In 2017, the city partnered with the Florida Department of Transportation and Okaloosa County to widen US-98. The project ended in 2021 with eastbound lanes added to relieve traffic between Airport Road and Emerald Bay Drive.
The city has now turned to two new projects designed specifically to deal with its three worst intersections. At Stahlman Avenue, the city will redesign the intersections with US-98 and Zerbe Street. The city will also study building a pedestrian overpass or underpass to protect pedestrians crossing US-98.
The city will build the Crosstown Connector to link Benning Drive and Beach Drive and relieve traffic congestion. This will allow motorists to move east and west between these two streets without traveling on US-98. This should shift local traffic away from US-98 and the crush of tourists driving along the highway.
These projects will pave the way for improved road safety in Destin.
Do you have questions about road safety in your city?,  Contact us and we'll get back to you.