Dallas Road Safety Overview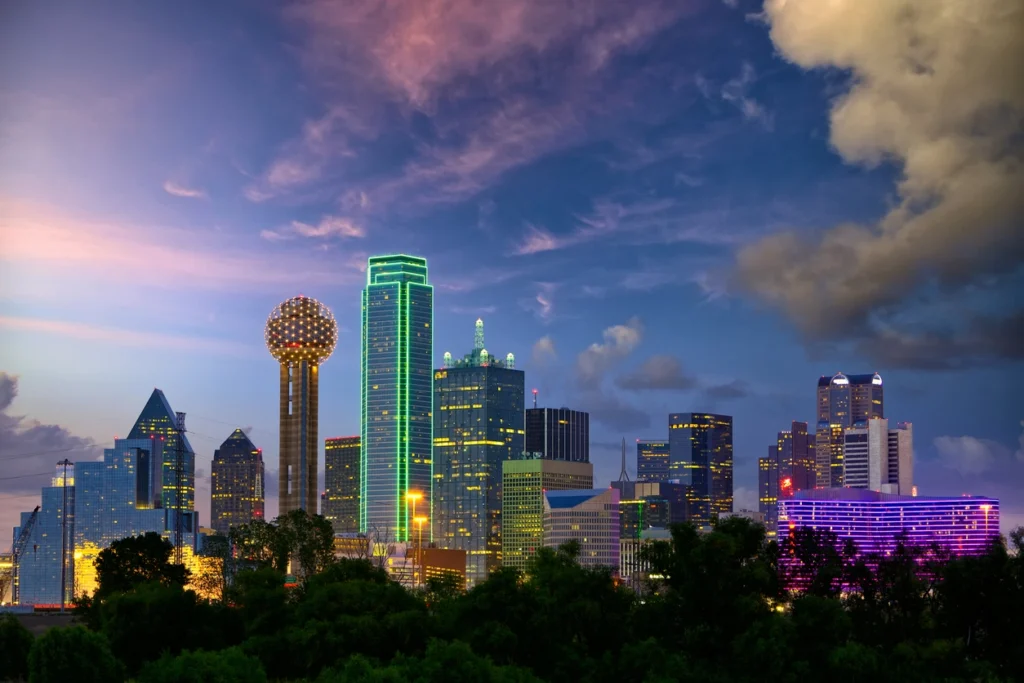 Dallas is the largest city in Dallas County and serves as the county seat. The population in Dallas was over 1.3 million as of the 2020 United States Census. That made Dallas the ninth most populous city in the country and the third largest in Texas. 
With a large population and millions of visitors, it is not surprising that the city struggles with road safety. In 2020, Dallas had the sixth highest number of traffic deaths and the fifth highest number of pedestrian deaths in the United States. 
The good news is that city leaders are committed to improving Dallas road safety for everyone. 
Motor Vehicle Accident Statistics for Dallas
The Texas Department of Transportation tracks accident statistics for the state, counties, and cities. 
According to the 2021 report, accident statistics for Dallas include:
55,634 total crashes

324 fatal crashes, with 352 traffic deaths

1,646 suspected serious crashes leading to 1,963 suspected serious injuries

9,577 possible injury crashes leading to 15,301 possible injuries

Over 16,748 unknown injuries 

3,372 speeding crashes leading to 128 fatalities 

6,920 distracted driving accidents leading to 24 deaths

2,259 DUI accidents leading to 97 fatalities
Sadly, many of the above accidents could have been avoided. Unfortunately, poor driving behaviors and reckless driving habits cause most of the traffic accidents in Dallas. 
Texas is an at-fault state for personal injury claims. Drivers are required to have minimum amounts of automobile insurance. If a driver is responsible for causing a traffic accident, the driver can be sued for damages, including compensation for medical bills, pain & suffering damages, and loss of income. 
Common Causes of Traffic Accidents in Dallas, TX
Driver negligence is a common cause of traffic accidents throughout Dallas. However, other factors can contribute to the cause of a crash. 
Common causes of traffic accidents in Dallas include:
Driving under the influence

of alcohol and/or drugs

Speeding, reckless, and aggressive driving, including

road rage

Distracted driving, including texting while driving and using a cell phone 

Fatigued and

drowsy driving

Poor weather conditions and hazardous road conditions

Tailgating

and following too closely for conditions

Improperly maintained or defectively designed roads and intersections

Failing to yield the right of way

Inexperienced drivers and drivers with impaired

driving ability
Tragically, thousands of people are injured each year in car accidents in Dallas, TX. Some individuals develop permanent impairments or disabilities because of car accident injuries. These life-altering conditions significantly impact a person's financial wellbeing and quality of life.
Car accident injuries range from minor to catastrophic and life-threatening. Even minor car crashes can result in serious injuries. 
Common car accident injuries include:
Broken bones and fractures

Internal organ damage

Traumatic brain injury

Back and neck injuries

Seatbelt and airbag injuries

Spinal cord injuries

Amputations and loss of limbs

Paralysis
Numerous factors affect the severity of a person's injuries. The vehicles involved, type of collision, speed, and other factors can increase the risk of a severe injury. 
Steps Dallas is Taking to Improve Road Safety for All Users
In June 2022, the Dallas City Council members acknowledged the need to improve Dallas road safety. They unanimously passed a Vision Zero action plan for the city. Vision Zero seeks to eliminate traffic deaths and severe injuries by improving road safety.
The action plan includes at least 40 steps and recommendations for Dallas to reduce traffic deaths, including:
Increase police enforcement

Use education campaigns to increase traffic safety awareness

Improve road and sidewalk infrastructure

Yearly tracking and accountability 

Raised crosswalks and speed bumps on residential streets

Installation of new or improved pedestrian crossings

Installing road safety measures at high-crash intersections and road corridors

Consider speed limit changes after data analysis 

Update policies and standards for street lighting, construction zones, and other areas

Implementing road safety education programs
The city estimates it could cost $30 million to meet the plan's targets. However, the return on investment could save lives and improve traffic conditions and road safety for residents and visitors to the city.
Consequences of Ignoring Road Safety 
Failing to maintain roads and improve road safety can be costly. Poor road safety can increase the number of car accidents. Traffic accidents result in physical injuries, emotional suffering, and financial losses.
However, the city also sustains damages because of traffic crashes. The city has to bear the expense of emergency medical services and police officers who respond to traffic accidents. 
Additionally, the city incurs property damage expenses because of traffic crashes. Furthermore, poor road safety discourages business growth and tourism, which decreases revenues for the city.
For these reasons and more, Dallas is investing in road safety to reduce the costly consequences of traffic accidents.
Do you have questions about road safety in your city?,  Contact us and we'll get back to you.