Minneapolis Road Safety Overview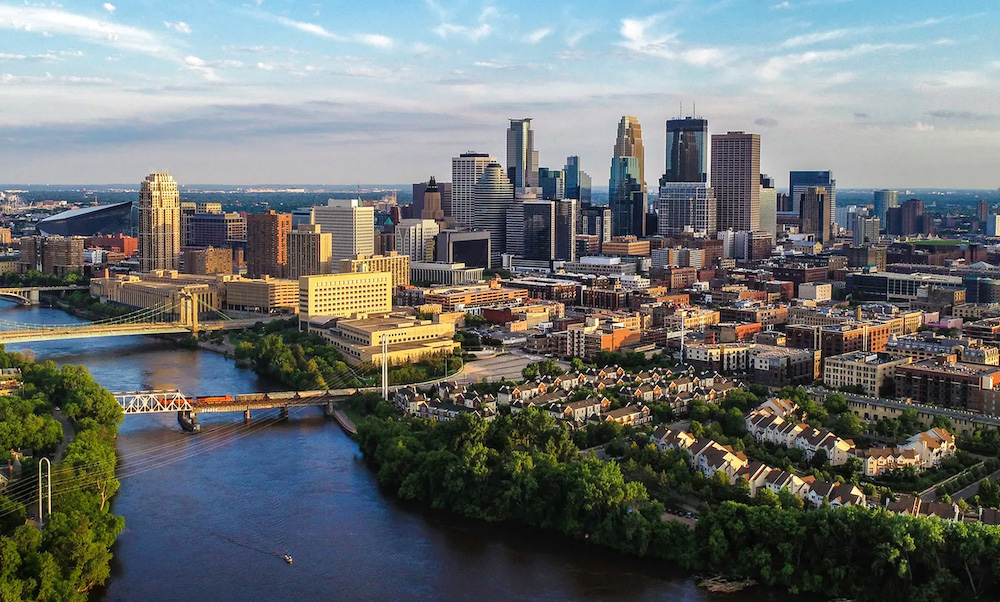 Minneapolis has a road safety problem. After dropping in 2020 due to the pandemic, the total number of car accidents in Minneapolis has increased steadily, according to a query on the MN Crash Statistics website.
On the other hand, as the total number of motor vehicle crashes has increased, the number of injuries and fatalities has dropped slightly. This continues a long-term trend where safer vehicles and higher rates of seat belt use improve crash survivability.
Minneapolis Crash Statistics
In 2022, Minneapolis, Minnesota had 4,152 traffic accidents involving 8,190 vehicles, according to MN Crash Statistics. This number only reflects the crashes that happened in the city and not the suburbs within the Minneapolis metropolitan area.
Compared to other cities, Minneapolis does not fare well. According to a study in 2019, Minneapolis was the 137th-safest city in the United States for drivers. In other words, 136 other cities, including St. Paul, were safer. 
According to the same survey, Minneapolis drivers filed car accident insurance claims about 22% more frequently than the national average.
The MN Crash Statistics site shows that accidents in Minneapolis peak in October and January. The January peak probably arises from winter driving conditions like snow and ice. The October peak happens because the month usually remains warm enough for drivers to log a lot of miles.
The most dangerous time of day to drive in Minneapolis in 2022 was during the afternoon rush hour. Between 5 p.m. and 6 p.m., traffic crashes jumped significantly compared to the hours just before and after rush hour.
Most crashes in Minneapolis in 2022 happened on weekends. Almost 46% of crashes in Minneapolis happened on Friday, Saturday, or Sunday, according to MN Crash Statistics. Weekdays were uniformly safer for drivers. The safest day to drive was Monday.
Deaths and Injuries from Minneapolis Car Accidents
In 2022, Minneapolis traffic accidents caused 20 fatal injuries and 1,986 non-fatal injuries, according to MN Crash Statistics. If you exclude single-vehicle crashes, pedestrian accidents, and bicycle accidents, Minneapolis vehicle collisions caused 1,501 injuries and deaths.
Looking specifically at non-fatal injuries, vehicle collisions in Minneapolis caused:
134 serious injuries where the victim needed an ambulance

496

minor injuries

where the victim had a wound but did not need an ambulance

858 suspected injuries where the victim had

pain

but no visible wound
The crash severity at the accident scene does not necessarily tell you the long-term prognosis for the injury. A crash victim might need an ambulance for a broken leg that heals in eight weeks. Conversely, a crash victim might suffer a permanent brain injury like a cerebral contusion without any visible head trauma.
Vulnerable Road Users in Minneapolis
Pedestrian and bicycle accidents have an oversized effect on road safety statistics. According to Minneapolis's Vision Zero analysis, in 2018, only 1% of vehicle occupants suffered death or serious injury in a car crash. But 5% of bicyclists and 11% of pedestrians suffered death or serious injury when they got hit by cars.
For 2022, MN Crash Statistics shows 188 pedestrian accidents and 103 vehicle-bike collisions. The pedestrian accidents caused 172 non-fatal injuries and five fatal injuries for an injury rate of over 94%. The bicycle accidents caused 96 non-fatal injuries and no fatalities for an injury rate of over 93%.
Common Causes of Minneapolis Car Accidents
Bearing in mind that a crash can have more than one cause, the top four causes of Minneapolis car accidents are:
Speeding
Speeding increases the risk that you will lose control of your vehicle. It also reduces the time you have to react to vehicles, pedestrians, and bicycles on the road.
In 2022, Minneapolis had 51 crashes in which speeding played a role, according to MN Crash Statistics. These crashes contributed to seven deaths and 43 injuries.
Failing To Yield the Right of Way
When drivers fail to obey traffic laws, intersections become dangerous. Failing to yield the right of way occurs when a driver goes out of turn or proceeds before the intersection clears.
According to MN Crash Statistics, Minneapolis had 205 car crashes caused by a failure to yield in 2022. These crashes caused 128 injuries and no fatalities.
Distracted Driving
Distractions prevent drivers from reacting to road, weather, and traffic conditions. Electronic devices, eating or drinking, and even passengers can distract a driver's hands, eyes, or mind from driving.
In 2022, Minneapolis had 73 distracted driving accidents. These crashes caused one fatal injury and 37 non-fatal injuries.
Impaired Driving
Drugs and alcohol can interfere with a driver's:
Alertness

Judgment

Coordination

Reaction time
According to MN Crash Statistics, Minneapolis had 89 impaired driving accidents in 2022, leading to 72 injuries and six fatalities. These crashes included those caused by legally drunk drivers as well as those who had consumed alcohol but were not over the legal limit.
Locations of Minneapolis Car Crashes
Minneapolis has identified a "high injury crash network of streets." According to the city, 66% of the injuries and fatalities from Minneapolis traffic accidents happen on only 9% of the city's streets.
Most Dangerous Streets in Minneapolis
Dangerous streets come from high use. Street accidents often result from:
Some of the roads identified as dangerous include:
Downtown streets from Washington Avenue South to 12th Street South and 1st Avenue North to 11th Avenue South

Hiawatha Avenue

Broadway Street

Lyndale Avenue

Franklin Avenue

Nicollet Avenue

Lake Street
Improving safety on these streets may require additional pedestrian crossings, slower speed limits, and wider roads.
Most Dangerous Intersections in Minneapolis
Intersection crashes often result from high use and poor driver judgment. Some common causes of intersection crashes include:
Turning unsafely

Failing to yield the right of way
Some dangerous intersections in the high-injury crash network include:
5th Avenue South and 6th Street South

Franklin Avenue and Portland Avenue

Park Avenue and 15th Street South

Lasalle Avenue and 15th Street
Improving road safety at these intersections may require better traffic control and enforcement.
Driving Safely in Minneapolis, MN
Despite the road safety issues in Minneapolis, Minnesota you can drive safely in the city. Try to avoid the afternoon rush hour. Watch for intoxicated and distracted drivers, particularly on weekends. And always wear your seat belt. 
With just a few adjustments, you can significantly reduce your crash risk as you navigate the Minneapolis streets.