Boca Raton Road Safety Overview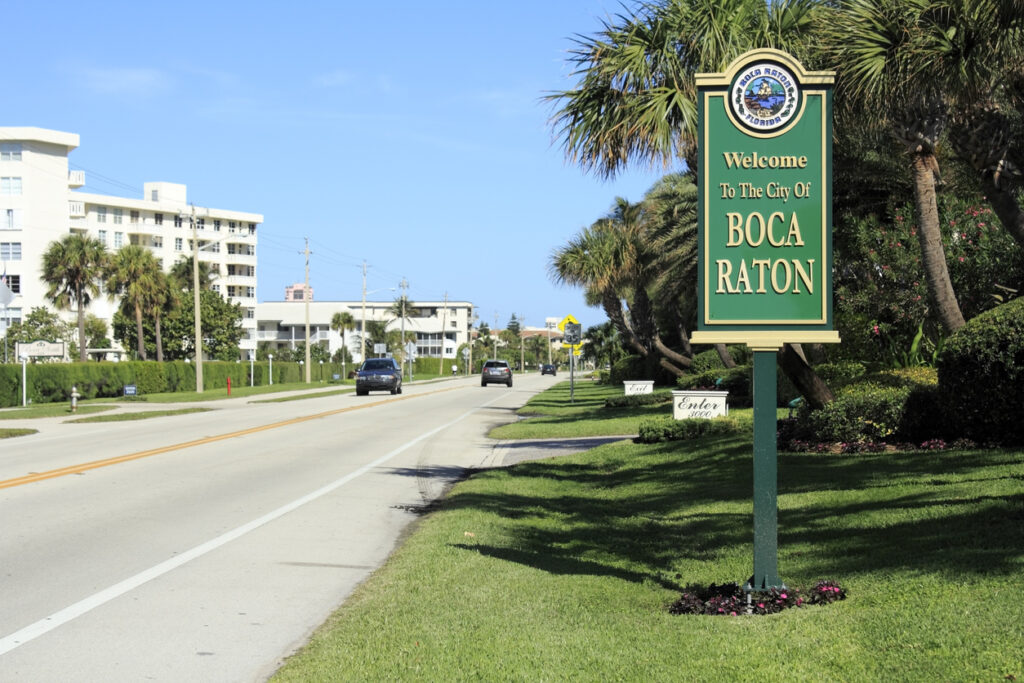 Car accidents in Boca Raton are more dangerous than those in other parts of Florida. According to the Florida Traffic Safety Dashboard, the city had over 3,350 traffic crashes in 2021 alone.
Based on its population, Boca Raton's accident rate was 8% higher than the rest of Florida. That might not sound like much, but it means that the city had 273 more traffic crashes than it should have for its share of Florida's population.
Learn more about Boca Raton road safety, common causes of car accidents, and how to navigate the city's roads safely.
Boca Raton Traffic Crash Statistics
In 2021, there were a total of 3,353 car accidents in Boca Raton. This number was slightly lower than average for Boca Raton, but that might not represent a long-term trend of decreasing crash numbers. The COVID-19 pandemic greatly decreased the city's traffic levels in 2020, and 2021's numbers might have seen some hangover effects.
The city's accidents tended to happen around midday. The most common time for Boca Raton car crashes is between noon and 1 p.m. This trend differs from many other cities where traffic crashes peak during the afternoon rush hour.
The most dangerous day to drive in Boca Raton is Thursday. According to the Traffic Safety Dashboard, approximately 25% of car crashes in Boca Raton in 2021 happened on Thursdays.
Conversely, the safest time to drive in Boca Raton was on weekends. Saturdays and Sundays combined had fewer serious or fatal accidents than Thursdays in 2021.
Boca Raton had problems with both young and aging drivers causing accidents. The most likely drivers to cause car crashes in Boca Raton were between the ages of 25 and 34 or over 65. These two age groups were responsible for almost 43.5% of car accidents in the city.
Injuries and Fatalities on Boca Raton's Roads
Car accidents in Boca Raton killed 14 people in 2021, the highest number of traffic fatalities in Boca Raton in over 11 years. From 2017 to 2020, the city averaged about 4.5 traffic deaths annually. The number of fatalities more than tripled from 2020 to 2021.
Boca Raton also saw 42 serious injuries in 2021 from car accidents. These injuries were severe enough to require an ambulance to transport the accident victim to the hospital. Examples of serious injuries include unconsciousness, major fractures, and severe lacerations.
Other Road Users Injured or Killed in Boca Raton Car Crashes
Furthermore, Boca Raton had 81 accidents where a car hit a pedestrian or bicyclist. These accidents caused two deaths, eight incapacitating injuries, and dozens of minor injuries.
According to Florida's Crash Facts report, 91.8% of Florida pedestrian crashes cause injury or death. Bicyclists fare even worse, with 96.5% of Florida bicycle crashes resulting in injury or death.
Boca Raton had 43 motorcycle accidents in 2021. As a result of these accidents, three motorcyclists died, and eight others suffered incapacitating injuries.
Causes of Boca Raton Car Accidents
Most Boca Raton car accidents happen at intersections. Over 57% of the multi-vehicle collisions mentioned in the state's crash statistics occurred at or near an intersection; the remaining 43% occurred on roads between intersections.
Intersection crashes usually happen when a driver:
Fails to

yield the right-of-way

at a stop sign

Turns left across the path of an oncoming vehicle

Makes a right turn into or in front of an oncoming vehicle
Intersections are also risky for pedestrians and bicyclists. Drivers often fail to notice pedestrians or bicyclists crossing the road to the vehicle's right. As a result, they can hit people walking or riding bikes in the crosswalk while turning right.
Impatient drivers also frequently try to beat cyclists or pedestrians crossing the street. These drivers try to make a right or left turn ahead of a pedestrian or cyclist in the crosswalk but misjudge the person's location or speed and hit them.
Roadway crashes between intersections can happen when drivers change lanes or fail to maintain directional control. However, the most common cause of crashes on roadways is speeding.
Speeding narrows a driver's window to maneuver when encountering traffic or road hazards and increases the vehicle's braking distance. When combined with distractions or poor road conditions, speeding can cause serious accidents involving injuries or fatalities.
Location of Boca Raton Car Accidents
Boca Raton car accidents tend to cluster along a few roads. There are several reasons for the formation of these clusters, including:
Speeding

Traffic congestion
Unfortunately, the busiest roads in Boca Raton are also some of its most dangerous. Roads, highways, and intersections that exhibited clusters of car accidents include:
US-1 between 8th St./Mizner Blvd. and Spanish River Blvd.

Palmetto Park Rd.

N. Military Trail between FL-794/Yamato Rd. and Clint Moore Rd.

FL-808/Glades Rd. and FL-845/Powerline Rd.
Interestingly, I-95 and Dixie Highway, two of the busiest highways in Boca Raton, have relatively low crash numbers. The majority of crashes tend to happen on US-1 and the city streets west of I-95.
Driving Safely on Boca Raton Roads
Fortunately for commuters in Boca Raton, the city's roads are relatively safe. Most of the accidents cluster on US-1 and a few roads on the west side. As such, one straightforward option for reducing your travel time and your risk of being involved in a crash is to avoid US-1.
Even if you avoid US-1, there are additional steps you can take to further reduce the likelihood of a collision. Speeding and distracted driving are among the most common causes of Boca Raton car accidents. If you slow down and minimize the distractions inside your car, you can substantially reduce your risk of an accident.
With that being said, accidents can still happen even if you do everything right. Always wear a seat belt and drive defensively. By anticipating other drivers' reckless or dangerous maneuvers, you might be able to steer clear of an avoidable crash.
Do you have questions about road safety in your city?,  Contact us and we'll get back to you.