Austin Road Safety Overview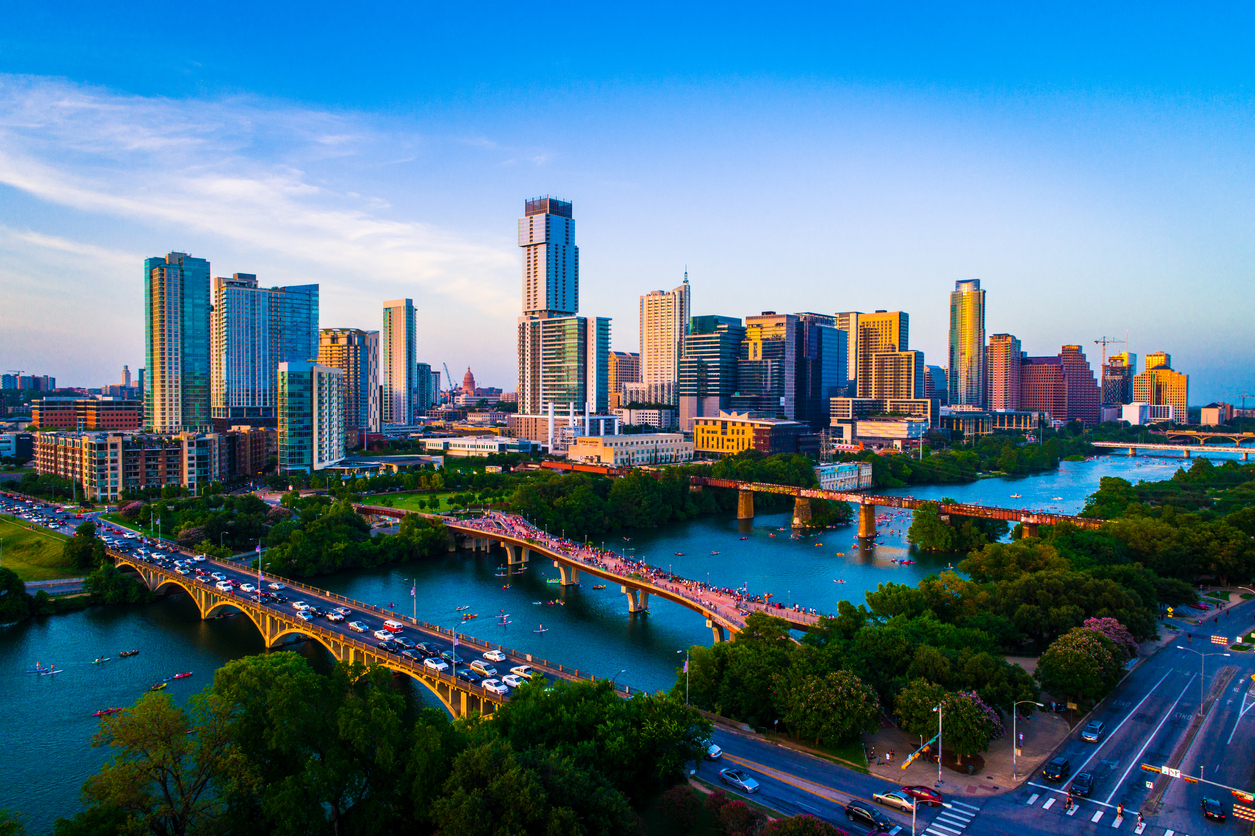 Texas provides detailed car accident statistics. The statistics summarized in this overview come from the Texas Department of Transportation (TXDOT) in 2021. They use crash reports to tell you where, when, and how accidents happen in Austin. Based on this information, you can develop a full picture of Austin's road safety.
Austin has a mixed record when it comes to road safety. On the one hand, Austin has fewer car accidents than it should have based on its share of Texas's population. On the other hand, the city has a higher percentage of fatal car accidents than the Texas average.
Here's an overview of road safety in Austin and how you can navigate the capital city's roads and highways safety.
Austin Car Accident Statistics
According to 2021 Texas traffic accident statistics, the entire state had 425,074 traffic accidents. In 2021, Austin had 12,433 car accidents. Of these accidents, 47.3% only caused property damage. The city also had 261 motorcycle crashes and 352 truck accidents involving commercial motor vehicles.
Austin has almost 966,000 residents, which accounts for 3.4% of the total Texas population. However, Austin only has 2.9% of Texas's traffic accidents. This low percentage means that Austin is significantly safer than the rest of the state.
In fact, Austin has about 1,900 fewer car accidents than it should have based on its share of the state's population.
Injuries and Deaths
Car crashes in Austin caused 113 deaths in 2021 according to TXDOT. Even though Austin only had 2.9% of Texas's car accidents, it had 4.7% of the state's road fatalities. This means car accidents in Austin were far deadlier than the average car accident in Texas.
Because Austin only has 3.4% of Texas's population, the city had over 32 more traffic fatalities than it should have, based on its share of Texas's population.
The TXDOT statistics create a strange contradiction. You are less likely to get into a car accident in Austin than in the rest of Texas. But if you do get into a car accident, you are more likely to suffer a fatal injury in Austin than elsewhere in the state.
Austin car accidents also caused 511 serious injuries, 3,304 minor injuries, and 4,919 possible injuries in 2021 according to TXDOT.
Serious injuries involve an injury that requires transportation to a hospital. In other words, a serious injury incapacitates you from driving to see a doctor. Serious injuries include unconsciousness, paralysis, and major bone fractures.
When you suffer a minor injury, you have a visible injury but you can drive yourself to see a doctor. Minor injuries include bruises and minor lacerations.
Possible injuries occur when the accident victim complains of pain or other symptoms but has no visible injuries. These complaints usually signify soft tissue injuries, minor fractures, minor brain injuries, or mental trauma.
Motorcycle accidents in Austin caused 13 deaths and 212 injuries in 2021 according to TXDOT. Of the 212 injured motorcyclists, 210 were motorcycle operators, and two were passengers.
Of the motorcyclists involved in crashes, 165 were wearing helmets, and 80 were not. Of the 165 helmeted motorcyclists, six died, and 145 were injured. Of the 80 unhelmeted motorcyclists, seven died and 67 were injured.
All of this means that unhelmeted motorcyclists had double the chances of dying in a motorcycle accident than helmeted motorcyclists did.
TXDOT reported commercial truck accidents killed 22 motorists and one pedestrian in 2021. Statistically, commercial truck accidents happen less frequently than car accidents, but truck accidents are more likely to cause multiple injuries.
Austin's 352 commercial truck accidents caused 852 injuries. And 19 truck crashes injured at least five people.
Causes of Car Accidents in Austin
As with most cities around the country, distracted driving is a leading cause of car crashes in Austin. Of Austin's 12,433 car accidents in 2021, TXDOT reported that 3,648 were caused by at least one distracted driver. This means 29.3% of car accidents in the city were distracted driving crashes.
Surprisingly, cell phone use was blamed for only 79 of those distracted driving crashes. Other distracted driving behaviors included:
Eating or drinking
Adjusting the radio
Viewing a GPS or mapping display
Talking to someone else in the car
Looking at a distraction outside the car, like an accident scene
The second-most common cause of accidents in Austin was intoxicated driving. In 2021, Austin had 1,185 accidents caused by drivers who were under the influence of alcohol or drugs according to TXDOT. These DUI accidents caused 28 fatalities and 112 injuries.
The third-most common cause of traffic accidents in Austin was speeding. Speeding includes traveling faster than the posted speed limit and traveling too fast for conditions. Of Austin's 12,433 traffic accidents in 2021, TXDOT blamed speeding for 524 of them.
Austin's Most Dangerous Roads and Highways
Austin's traffic accidents tend to cluster on a few roads, highways, and intersections. Some of the most dangerous include:
I-35
I-35 is the site of many accidents. But the stretch of I-35 north of 38th 1/2 St. saw 19 fatal accidents in 2021 according to TXDOT.
TX-71
TX-71 has accidents all along its length as it passes through Austin. In 2021, TXDOT reported that this highway had eight fatal accidents.
Interchange Between I-35 and US-290
This busy interchange saw dozens of accidents, including three fatal accidents, in 2021 according to TXDOT.
Vulnerable Road Users in Austin
TXDOT reported that vulnerable road users in Austin were involved in over 600 traffic accidents in 2021. Austin had 408 pedestrian accidents in 2021. These accidents caused 41 deaths and 314 injuries. Only 54 pedestrians walked away from their accidents uninjured.
Bicyclists were involved in 199 accidents in 2021 in Austin. Three cyclists died and 177 suffered injuries. Only three cyclists involved in bicycle accidents were uninjured.
Safely Navigating Austin's Roads
Austin has similar problems to many other states. Drivers cause traffic accidents because of distractions, intoxication, and excessive speed. To reduce your chances of getting into a car accident in Austin, slow down, drive sober, and minimize distractions.
If you ride a motorcycle, wear a helmet. Accident statistics in Austin show that you cut your risk of death in half if you wear a helmet during a motorcycle accident.
Do you have questions about road safety in your city?,  Contact us and we'll get back to you.
Austin Additional Resources & Information