El Paso Road Safety Overview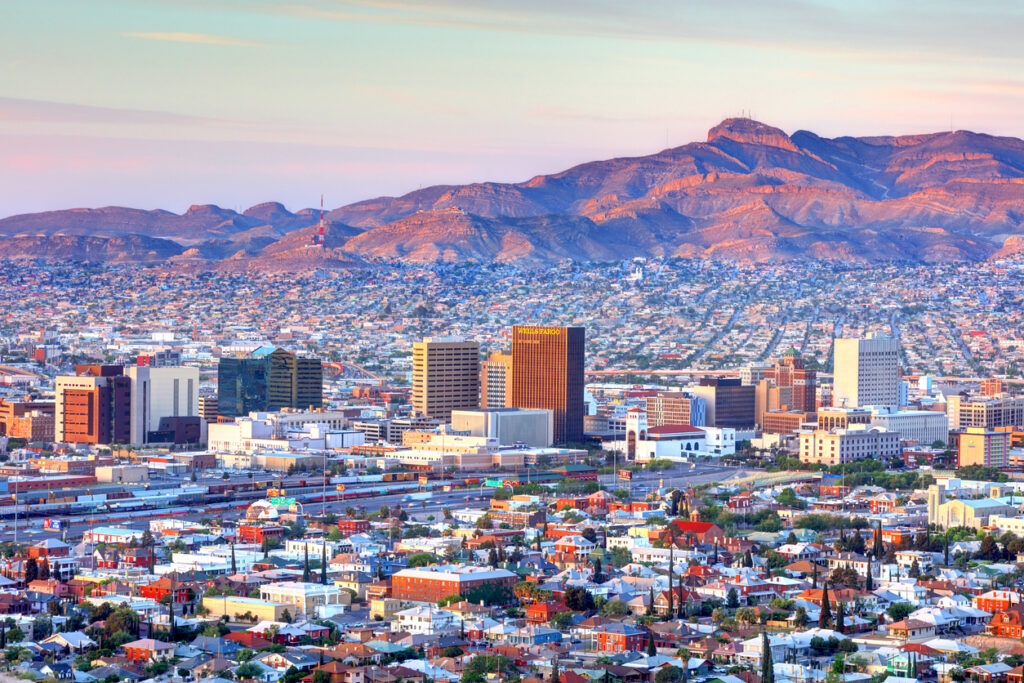 Car accidents in El Paso have a surprisingly high rate. This city of just under 700,000 people saw nearly 13,700 car accidents in 2021, according to Texas's Crash Records Information System (CRIS). And that figure doesn't even include pedestrian and bicycle accidents.
This road safety record comes partly from El Paso's role as a major land port. More than 800,000 trucks traveling between the U.S. and Mexico pass through the El Paso port of entry annually. El Paso's border crossing accounts for over 20% of the land trade between the two nations, but it also creates traffic congestion that leads to crashes.
Learn more about El Paso, Texas road safety, and how to navigate the city's roads with minimal risk.
El Paso Car Accident Statistics
According to CRIS, El Paso had 19,150 traffic accidents in 2021. This figure includes all the car, pedestrian, and bicycle accidents in El Paso and accounts for both single and multiple-vehicle accidents.
If you eliminate all single-vehicle, pedestrian, and bicycle accidents, El Paso had 13,672 collisions involving two or more vehicles. These included 794 truck accidents involving commercial motor vehicles and 152 motorcycle collisions.
The most dangerous months to drive in 2021 were August, September, and October, each averaging over 1,280 car crashes per month. The safest months were January and February, during which the numbers dropped to about 805 car crashes per month.
Friday was the most dangerous day of the week in 2021 — no other day even came close. There were over 240 more crashes on Fridays than Wednesdays, the second-most dangerous day of the week. By contrast, the safest day of the week to drive was Sunday.
In 2021, accidents in El Paso were most likely to happen during the afternoon rush hour. According to CRIS, car accident numbers increased steadily starting at 1 p.m. until they peaked between 5 p.m. and 6 p.m. The lowest numbers happened in the early morning between 4 a.m. and 5 a.m.
Rear-end collisions were the most common type of accident in El Paso in 2021, with nearly 4,900 such crashes reported. The most dangerous were angle collisions, which resulted in more than 750 injuries and deaths.
El Paso Car Accident Injuries and Deaths
According to statistics, El Paso had 3,166 car accidents that caused at least one injury or fatality in 2021. In total, these accidents injured or killed nearly 4,800 people.
As many as 32 people died in car collisions in 2021; 27 died in single-fatality crashes. El Paso also had one crash with two fatalities and one crash with three fatalities in 2021.
In these same accidents, 124 people suffered serious injuries. A serious injury incapacitates the vehicle occupant so badly that they need an ambulance to transport them to the hospital.
Furthermore, 1,921 people had minor injuries, defined as visible but not incapacitating. People with minor injuries can seek medical treatment without requiring an ambulance.
Finally, 2,705 people had possible injuries. When an accident victim reports pain, dizziness, confusion, or other signs of injury but has no visible wounds, it's recorded as a possible injury.
Vulnerable Road Users in El Paso
In 2021, El Paso had 209 pedestrian accidents that injured or killed 190 pedestrians. Of these, 14 suffered fatal injuries, and 33 suffered incapacitating injuries.
CRIS also listed 56 bicycle crashes in the same year. More than 45 bicyclists were injured or killed in these auto-bicycle crashes.
The city also saw 204 motorcycle accidents. Shockingly, all 204 of these accidents caused an injury or fatality, according to CRIS.
Causes of El Paso Car Accidents
Most El Paso car accidents happen at or near intersections. In 2021, CRIS records show that 56.9% of El Paso's multi-vehicle collisions involved an intersection.
The most common causes of collisions in El Paso included:
Speeding
Speeding was cited as the cause of nearly 750 El Paso car crashes, making it the most common cause of crashes in the city.
Speeding significantly reduces the amount of time a driver has to make an emergency maneuver when they encounter road or traffic hazards. It also increases the car's minimum stopping distance.
Failure to Yield the Right-of-Way
Drivers who failed to yield the right-of-way caused over 450 accidents in El Paso in 2021. Right-of-way accidents occur when drivers:
Turn left in front of an oncoming car

Turn right into the path of an oncoming car

Go out of turn at a four-way stop sign
These accidents can result from many driver behaviors, including improper lookout, poor decision-making, and distracted driving.
Distracted Driving
Distracted driving was also a common cause of crashes in El Paso. According to CRIS, over 250 crashes resulted from distractions inside or outside the vehicles involved.
Distractions can include anything that takes the driver's eyes, hands, or mind away from the road. Common distractions include:
Eating or drinking

Conversing with passengers

Adjusting the radio or vehicle controls
Texas law prohibits texting while driving, but motorists can still use handheld cell phones to make or receive voice calls anywhere in the state except in school zones.
Locations of El Paso Car Accidents
El Paso car accidents happen all over the city. El Paso had so many car accidents in 2021 that very few streets don't show evidence of at least one car accident.
Some of the most dangerous streets and highways for car accidents in 2021 included:
US-180/US-62/Montana Ave.

TX-20/Mesa St.

US-54 BUS/Dyer St.

TX-659/Zaragoza Rd.
The most dangerous intersections for pedestrians were downtown, with the intersection of 7th Ave. and Stanton St. standing out as particularly dangerous, according to CRIS.
Navigating El Paso Roads Safely
All in all, El Paso has a poor record for road safety.
You can reduce your chances of being involved in an accident in El Paso by implementing sensible strategies, such as slowing down, limiting distractions, and driving defensively. If you follow the traffic rules and assume that other drivers might not be as cautious as you, you can avoid causing a crash or getting drawn into one brought about by another driver.