Houston Road Safety Insights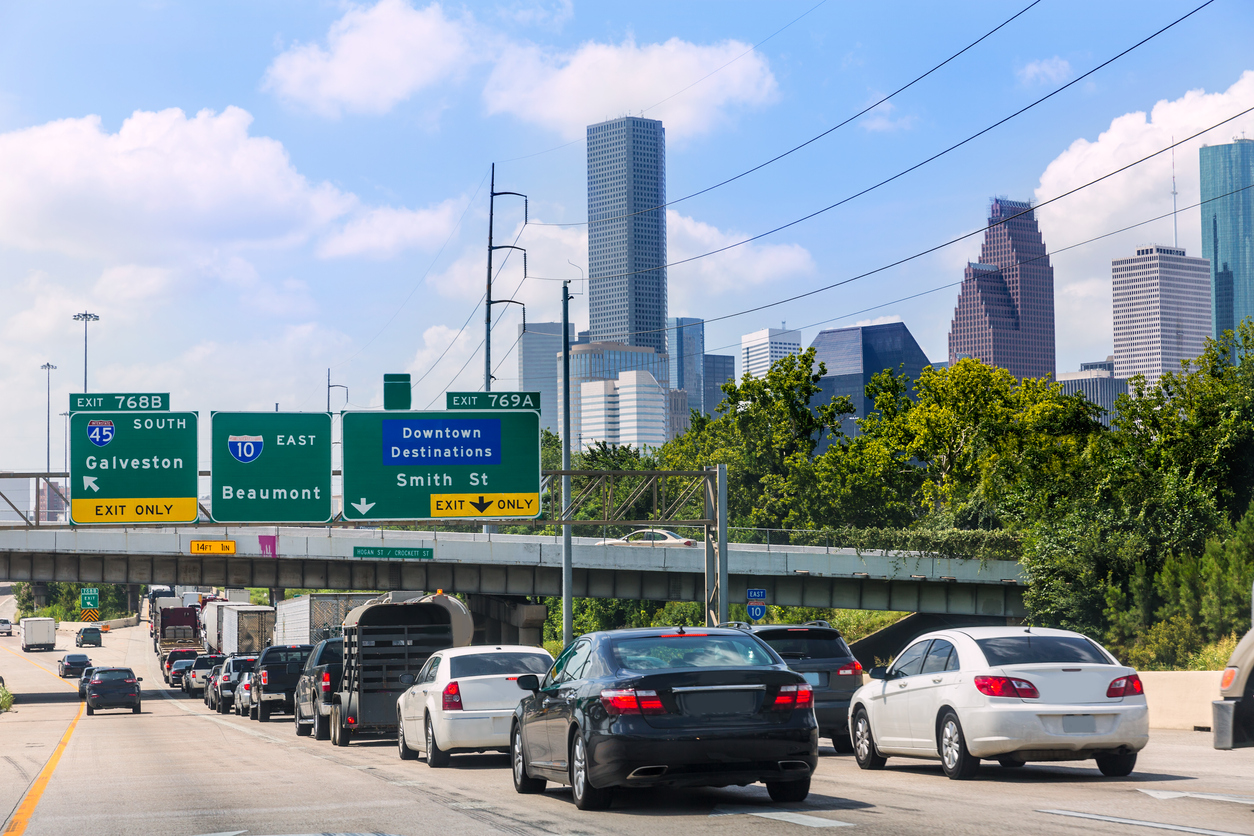 Houston's streets can be intimidating, with tons of busy intersections where accidents can occur. For example, did you know Houston's most dangerous intersection is Beltway 8 and Bissonnet Street? 159 accidents occurred there in one recent year. That's more than 3 per week!
Additionally, as the 19 miles of Westheimer Road wind through the congested Midtown Houston area, its lanes become dangerously narrow. Booming suburban development means Farm to Market Road 1960 now carries more than 60,000 vehicles per day and is the site of about a dozen car accident fatalities each year. The Katy Freeway also sees its fair share of 18-wheeler wrecks.
These dangers seem unavoidable.
Plus, when you combine the city's sprawling size with limited public transportation options, you get a killer daily commute that many Houstonians dread.
In fact, approximately 80% of Houston residents drive an average of 30 minutes each way to and from work.
One report estimates that Houstonians spend 5 full days sitting in traffic each year!
More time on the road means more chances to get into a car accident. The unfortunate truth is that approximately a dozen people lose their lives in Houston car accidents each week.
But what really makes Houston traffic so dangerous?
Causes of Houston Car Accidents
Between 2010 and 2018, the Greater Houston metropolitan area had the third largest population growth in the United States, boasting nearly 7 million residents.
Naturally, more people means more traffic congestion.
But traffic isn't just annoying – it can be fatal. In fact, the Texas Department of Transportation's #EndTheStreak campaign was created in response to a particularly upsetting discovery: There has not been a death-free day on Texas roads since November 2000.
For more insight into these tragic accidents, let's take a look at some numbers straight from the Texas Department of Transportation.
Drunk Driving
In 2019, 68,682 car crashes occurred in Houston, Texas. 240 of those accidents were fatal.
Driving under the influence of alcohol was determined to be the cause of 2,436 of these accidents, 67 of which were fatal.
That means driving under the influence was a factor in less than 4% of all Houston car accidents, but was responsible for 28% of all Houston car accident fatalities.
Distracted Driving
While Houston may be known for its nightlife, drinking and driving is not its only problem: Although a statewide texting-and-driving ban went into effect in September 2017, distracted driving is still a major issue throughout Texas.
The Texas Department of Transportation found that the use of cell phones and other mobile devices contributed to nearly 4,000 Texas car crashes in just one year. Of those accidents, 16.4% were attributed to talking on the phone, 20.2% were attributed to texting while driving, and the other 63.4% were attributed to using other applications like music players, social media, or maps.
Sharing the Streets
Pedestrians are also vulnerable: the city of Houston has over 6,200 miles of road, but less than half of those miles have sidewalks.
Additionally, Houston has fewer than 300 total miles of on-street bike lanes. Texas bicycle accident deaths spiked 26% between 2017 and 2018, making this yet another pressing safety issue.
Costly Car Crashes
Overall, the state of Texas had 3,610 deaths on its roads and over 39 billion dollars in economic loss from motor vehicle crashes in 2019, up from 27.8 billion dollars in 2013.
Defensive Driving in Houston
As you navigate Houston's streets, with their hustle and bustle and potholes aplenty, here are a few things you can do to stay safe.
Always use your turn signal.
Yes, always use that blinker, even if you think no one is behind you! Additionally, if you are passing an emergency vehicle on the side of the road, Texas law requires you to get over one lane or slow down 20MPH below the speed limit.
Come to a complete stop and look both ways before entering intersections.
Trust us: "rolling stops" are a bad habit that put everyone at risk. Also be on the lookout for pedestrians, bicycles, and motorcycles – and always respect their right-of-way.
Never tailgate.
Remember to give all drivers their personal space! In the event of an abrupt stop, road debris, or another hazard, tailgating could result in a multi-car pile-up. Additionally, every vehicle has its blind spots, and lingering in them could be deadly, especially if you're sharing the road with a large semi-truck.
Stay alert and awake.
Don't hit the road if you're feeling fatigued. Last year, over 9,000 Texas car accidents were caused by drivers who were tired or asleep.
Look out for road work.
Did you know there are as many as 3,000 active work zones in Texas at any given time? Be extra cautious and reduce your speed when passing construction crews and stay aware of potential detours on your route.
Don't get stranded!
It's always wise to expect the unexpected. In case of a roadside emergency, stay prepared by keeping a full tank of gas, spare tire, and jumper cables on hand.
Drive Smart, Drive Safe
Together, we can make Houston's roads safe by staying patient, alert, and vigilant.
If you ever find yourself tangled up in a Houston car accident, reach out to Stewart J. Guss, Personal Injury Attorneys, for a free consultation. With over 20 years of local experience at their Houston headquarters, this nationally recognized firm can connect you to the help you need and the compensation you deserve.