Queens Road Safety Overview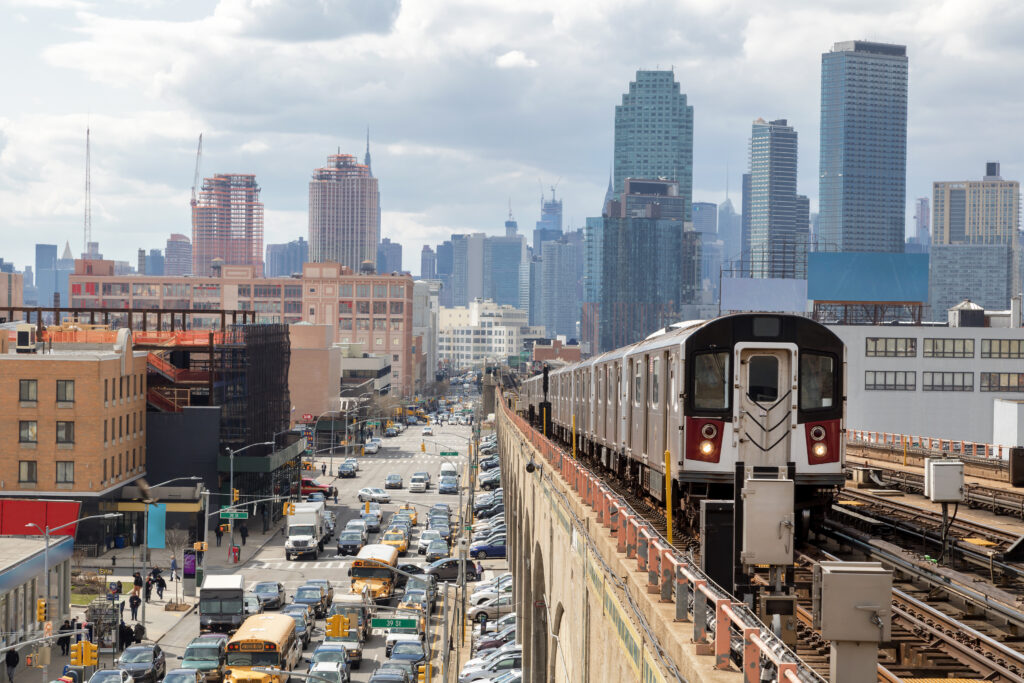 Queens, NY is the second most populous borough in New York City. With nearly 2.3 million residents, car crashes in Queens happen quite frequently. 
Continue reading for an overview of road safety in this borough and the steps New York City has taken to reduce traffic accidents.
How Many Traffic Accidents Occur in Queens, NY? 
In 2021, the NYPD investigated 19,542 traffic accidents in Queens. This total includes 1,286 pedestrian accidents and 703 bicycle accidents.
Most of these accidents involve private cars and SUVs. Nearly 19,000 accidents involved at least one personal vehicle. Only 261 involved a taxi, and 425 involved a bus. Oddly, 142 crashes involved an ambulance, including six accidents where two ambulances collided. An additional 20 crashes involved a fire truck.
Commercial vehicles were also safer than personal vehicles. Queens only had about 900 accidents that involved a delivery truck or semi-truck.
How Many Traffic Deaths Occur in Queens?
Perhaps because 2021 was anomalous due to the pandemic, Queens had only 33 traffic fatalities last year. In a normal year, Queens averages about 90 traffic deaths. So 2021 had an unusually low number of traffic deaths.
The 33 deaths in 2021 included 14 pedestrians and two bicyclists. The worst month for fatal accidents was May. That month saw seven fatal accidents that caused eight deaths. The eight fatalities included five pedestrians and one bicyclist.
The most common cause of fatal accidents in Queens in 2021 was speeding. Unsafe speed was cited as the cause of seven fatal accidents. Two fatal accidents in 2021 resulted from intoxicated driving.
How Many Traffic Injuries Occur in Queens?
Queens had 6,449 traffic accidents in 2021 that injured at least one person. In total, these accidents injured 8,443 people. This number includes 31 people injured in four separate bus accidents.
The 8,443 people injured in Queens traffic accidents in 2021 included 1,316 pedestrians and 701 bicyclists.
The most common cause of traffic injuries was distracted driving. This driver error caused 1,854 injury accidents in 2021. Alcohol was a factor in 123 injury accidents in Queens.
What Are the Most Dangerous Roads and Intersections in Queens?
Traffic accidents in Queens tend to cluster around a few roads and intersections, including:
Northern Boulevard
This major traffic artery connects to I-295 and I-678. It runs east-west across all of Long Island, although it changes names several times as it does so.
In Queens, it skirts Citi Field and Downtown Flushing. It also provides access to LaGuardia Airport via the Grand Central Parkway.
The section of Northern Boulevard running through Queens saw 284 traffic accidents in 2021. 
The most dangerous intersections on Northern Boulevard in 2021 include:
Cross Island Parkway with 17 accidents

Parsons Boulevard with 11 accidents

126th Street with 9 accidents

Union Street with 9 accidents

Prince Boulevard with 8 accidents
The intersection between Northern Boulevard and Queens Boulevard only produced one traffic accident in 2021. But Queens Boulevard is the second most dangerous road in Queens.
Queens Boulevard
Queens Boulevard runs diagonally across Queens from Jamaica Avenue to the Ed Koch Queensboro Bridge. It provides access to I-678, I-495, and I-278.
This stretch of road accounted for 223 traffic accidents in 2021. 
The intersections on Queens Boulevard with the most traffic accidents in 2021 include:
Jackson Avenue with 15 accidents

Woodhaven Boulevard with 14 accidents

39th Street with 9 accidents

57th Avenue with 9 accidents

Skillman Avenue with 8 accidents
Accidents on Queens Boulevard in 2021 injured 129 people and killed one.
North Conduit Avenue
North Conduit Avenue cuts east and west across Queens. North Conduit Avenue runs from Hook Creek Boulevard to Sutter Avenue. It provides access to JFK Airport and I-678.
In 2021, North Conduit Avenue had 213 traffic accidents. The accidents on North Conduit Avenue did not cause any fatalities. But they injured 148 people, including one pedestrian and one bicyclist.
The most dangerous intersections on North Conduit Avenue include:
Cohancy Street with 22 accidents

84th Street with 12 accidents

160th Street with 11 accidents

134th Street with 10 accidents

225th Street with 10 accidents
The intersection with Cohancy Street was particularly dangerous. The 22 accidents at that intersection resulted in 21 injuries.
Initiatives to Improve Road Safety in Queens, NY
New York adopted Vision Zero in 2014. This national program encourages cities to use every tool at their disposal to focus on traffic safety. Under Vision Zero, each member city sets a goal for reducing traffic deaths and injuries. The program then provides cities with ideas for reaching their goals.
New York has successfully reduced its traffic deaths by one-third over the seven years since Vision Zero was adopted.
Some of the ways it has accomplished this task include:
Safer road design

Smarter traffic controls

Tailored speed limits

Education about traffic safety
Some projects that have specifically targeted roads and intersections in Queens include:
Automated Traffic Enforcement
New York City has more speed cameras than any other city in the U.S. New York City was also the first city in the U.S. to adopt red light cameras. By automating enforcement, these tools improve compliance.
Queens Boulevard Redesign
After redesigning Queens Boulevard, traffic fatalities on this road decreased by 83%. But Queens Boulevard is still a hotspot for traffic accidents. As a result, the city has experimented with adjusting traffic light timing and speed limits on this road.
Traffic Calming
An innovative way to reduce accidents is through traffic calming. This concept uses various tools like reducing the number of lanes, shortening traffic light cycles, and lengthening pedestrian crossing signals to force drivers to slow down. 
Traffic calming was used on Rockaway Boulevard in Queens to eliminate all traffic fatalities over just three years.
What Is the Future of Road Safety in Queens, NY?
Queens has seen improvements in road safety that most cities in the U.S. have not matched. This has happened through a concerted effort to design better streets and push drivers to comply with traffic laws. 
While traffic accidents will always happen, reducing them as much as possible makes places like Queens much more friendly to all road users.
Do you have questions about road safety in your city?,  Contact us and we'll get back to you.